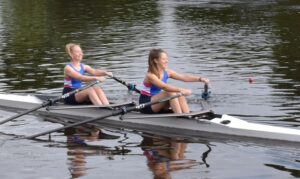 Following the success of our summer school Blades courses, Cardiff Rowing Centre has established a successful schools rowing club!
Once juniors have complete the Blades 1, 2 and 3 courses and reach a competent standard in finer shell boats, we will invite them to join the schools group on a Sunday afternoon and Wednesday or Tuesday/Thursday weeknights (age dependent). Please note that completion of the Blades 3 course does not guarantee entry into the club; each participant is considered on an individual basis.
The club runs all year round and has achieved wins at regattas in Stratford, Gloucester and Llandaff over the past few summers. We had our first Welsh representation in 2016, and again in 2017. Things are looking good for this year!
Each session is run by our team of professional coaches.
For further information, please contact Mike Hnatiw at Cardiff Rowing Centre.
T: 029 2035 3912
E: mhnatiw@cardiff.gov.uk